Highest-Paid Celebrity Chefs in US
By
Colman Andrews
How much money do chefs make? According to Nation's Restaurant News, the leading U.S. food-service trade magazine, the average annual salary for an executive chef at a stand-alone restaurant in 2010 was $71,063. All together, now: Do you think that's what
Mario Batali
takes home? Do you reckon that's how many bucks
Guy Fieri
pays taxes on each year? Yeah, sure.
The rules are different for celebrity chefs -- first of all, simply because they're celebrities and hence demand the big bucks, but also because, without exception, the most financially successful ones do lots of things at once. In fact -- spoiler alert -- very few of them ever actually cook in their own kitchens anymore. They're far too busy thinking up and launching new restaurants (and even, like
Charlie Palmer
, hotels), writing cookbooks, developing (or lending their names to) products of various kinds, and of course appearing on TV... The
most successful chefs in America
aren't just chefs -- they're entrepreneurs, they're brands. Sometimes they're virtually whole industries. Being
Wolfgang Puck
,
Tom Colicchio
, or
José Andrés
isn't just a job: It's a way of life.
With that in mind, we thought it would be fun -- and even maybe educational -- to try to figure how many clams some of our nation's most famous culinary celebrities actually rake in. How much, in other words, do these guys (and occasionally gals, like
Paula Deen
and
Barbara Lynch
) get paid?
In drawing up our list of chefs, we decided first of all that they must actually be chefs, in the sense of having run restaurant kitchens and built their careers from there. Sorry, Rachael. Tough luck, Alton. We've included a few citizens of other countries (
Alain Ducasse
and
Jamie Oliver
among them) because they have restaurants and/or TV shows in America, though the bulk of their businesses are elsewhere.
In order to obtain accurate, up-to-date income figures for these fabulous food folk, we bribed an IRS official and obtained copies of their personal tax returns.
In fact, our researchers consulted Experian (through LexisNexis), the Orbis International Financial Database, and BookScan. We considered net worth rankings and previous salary estimates from Forbes, the Wall Street Journal, and several trade publications. We scoured the popular press for news stories and rumors. Then we called up savvy restaurant pros (not the kinds who'd make the list) and got their feedback, threw in a pinch of common sense, and calculated what we believe to be a reasonable approximation of each chef's personal income for 2010.
Though we're confident that we got relative scale right, we admit that the actual figures might be merely ballpark -- so, sorry kids, but no dollar amounts here. Suffice to say that the range extends from six figures to eight. Oh, and if you're on the list and think we've put you in the wrong position -- or if you're not on the list but think you should be -- you know where to send those tax returns that we couldn't get from the guy at the IRS.
Below, the 10 Most Successful Chefs in America.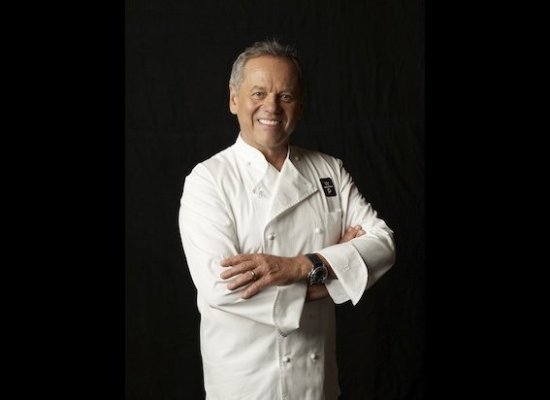 Though Puck, whose name is synonymous with "California Cuisine," has worked the celebrity angle hard, his endlessly creative takes on a multitude of cuisines, from pizza to Asian food, still earn him the respect of the food world. As enterprising as they come, Puck can boast 21 fine dining restaurants around the nation, numerous cookbooks, a TV career that has included appearances on Frasier, Las Vegas, and The Simpsons as well as a cooking-show Emmy, and lines of food products, cookware, and appliances (among them a coffeemaker and the coffee pods to go with it). He has even made forays into fast(ish) food with more than 50 Wolfgang Puck Express locations in the U.S., Canada, and Japan. Just one of his enterprises, Wolfgang Puck Worldwide, which oversees his casual dining restaurants and food products, is estimated to be worth over $400 million, and some estimates of the total annual income generated by his various concerns reach more than twice that.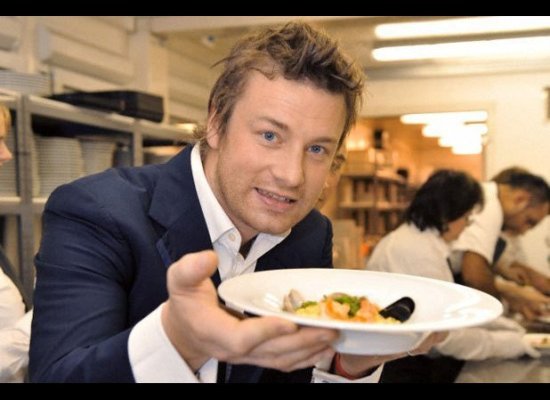 Having finally lived down the lascivious-sounding moniker "The Naked Chef" (which in fact referred to his penchant for simplicity in food, not his uniform while cooking), Oliver has become as well-known for his charity and food activism as for his stripped-down, ingredient-focused cuisine. Although Oliver has over 20 restaurants in the U.K., Dubai, and Australia, Americans are more familiar with his cooking shows and more recently his reality series about America's child obesity rates, Jamie Oliver's Food Revolution. In 2011, he once again made theSunday Times 1,000 Richest Britons list, which listed his net worth at 106 million -- about $172 million.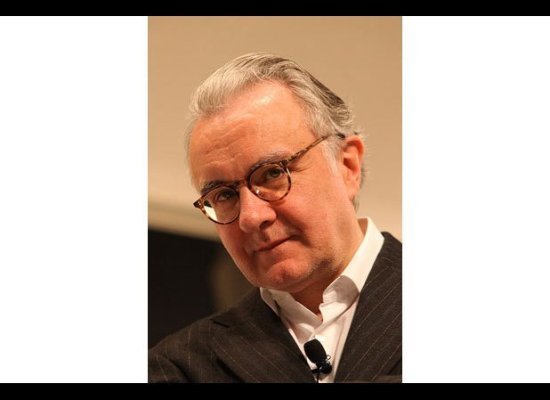 His countryman Joel Robuchon may be more respected by most critics as a chef, but Ducasse, who can certainly hold his own in the cooking department, operates about 30 restaurants and three hotels spanning the globe, with a total annual revenue of more than $80 million. He has made missteps (his original New York City establishment, Alain Ducasse at the Essex House, closed after six years), but in both 2005 and 2010 he achieved the unparalleled distinction of having three three-Michelin-starred restaurants in the same year. Filling out his bulging portfolio are a Parisian culinary school, a number of cookbooks, and a thriving consulting business.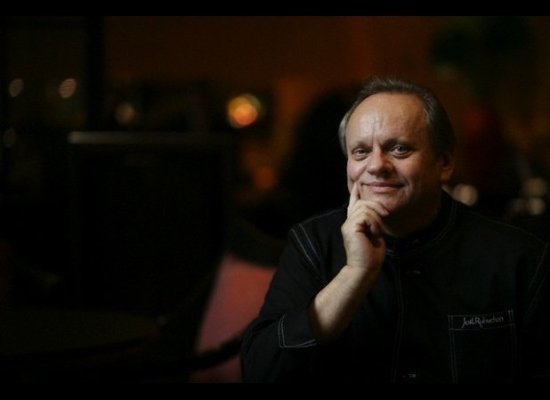 "The Chef of the 20th Century," as he was dubbed by the Gault/Millau guide, is making an equally strong impression in the 21st century. As big in Asia as he is in the West, Robuchon has about 20 restaurants throughout the world and more Michelin stars (26) than any other chef. He's also the author of some 16 cookbooks and has done popular TV shows in Europe, though he hasn't yet tried the American television market.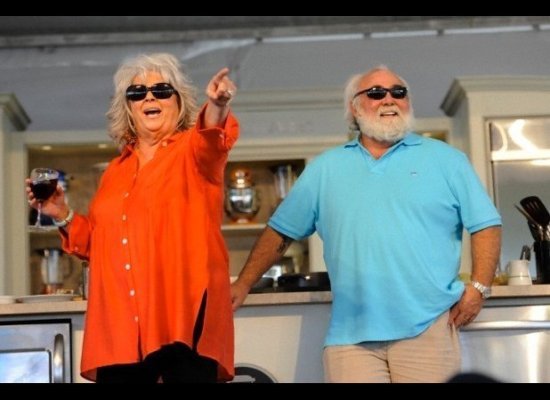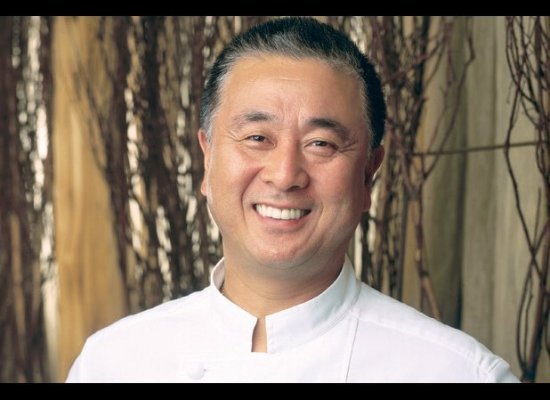 Nobu restaurants are getting to be like Starbucks; sometimes it seems like there's one on every corner. All right, that's an exaggeration, but Nobu Matsuhisa -- who virtually reinvented Japanese food for non-Japanese diners (his black cod with miso became one of the signal dishes of the 1990's in restaurants all over the country) -- does oversee, with varying degrees of personal involvement, almost 30 restaurants, three with Michelin stars, in locations ranging from Aspen to Athens, Dallas to Dubai (with three each in New York, London, and the Los Angeles area). Factor in his four cookbooks, his line of Nobu Original Dinnerware, and his premium sake and beer brands, and it's clear that he's a real contender.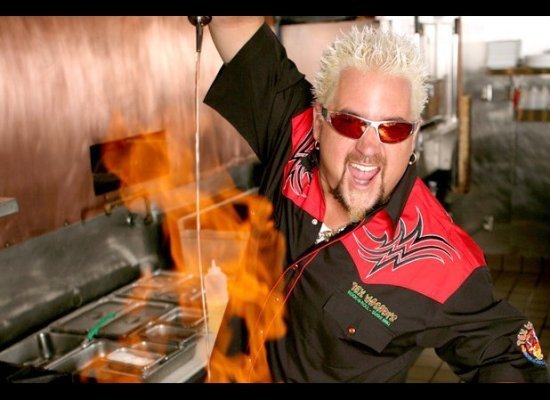 The winner of Season Two of The Next Food Network Star is a powerhouse, a celebrity whose "krew" calls him 'The Guid" (as in "guido"). The host of Food Network's Diners, Drive-Ins and Dives and NBC's Minute to Win It has five restaurants, two New York Times bestsellers, estimated book sales of an estimated $1.5 million, lines of apparel and products, a hectic schedule of lucrative public appearances, bodyguards who flank him at public appearances, and a hairstyle as distinctive in its own way as Donald Trump's.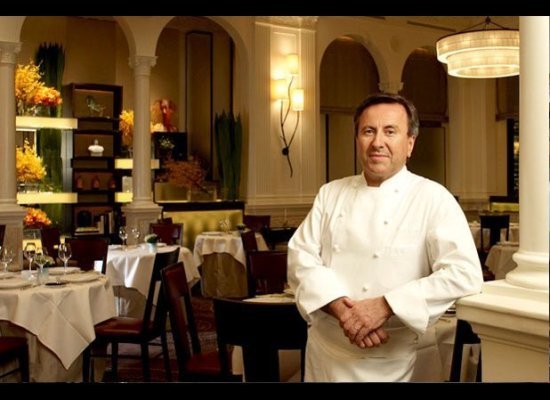 A French chef who doesn't own any restaurants in France, Boulud rose to prominence in New York City, where he runs eight establishments, including a newly opened epicerie, marking his first foray into retail (though he has long sold private-label wine, champagne, and smoked salmon). His Dinex Group also has restaurants in Miami, Palm Beach, London, Beijing, and Singapore, and his Feast and Fetes catering company is known as one of New York's best.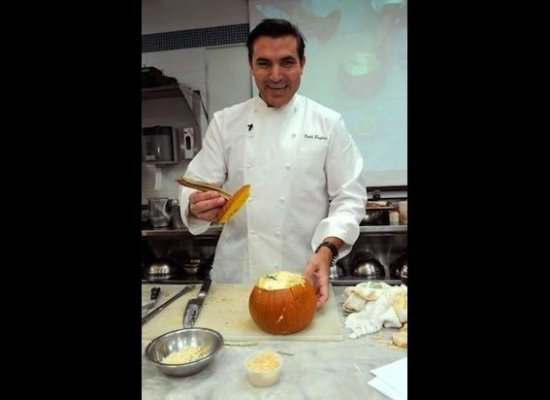 The portraits on Todd English's web site look more like a would-be soap star's portfolio than documentation of a working chef, and English has had his share of problems lately -- among other things, he was deposed last month for reportedly failing to pay $80,000 rent on a SoHo loft, a waiter is said to have stolen $91,000 from one of his restaurants, and Boston magazine recently told him to take a hike -- but English oversees a roster of restaurants nationwide (the number seems to fluctuate frequently), and his Olive Group reported earnings of $53 million last year. Cookbooks, a popular TV show, and his own branded cookware and olive oil help fill the coffers.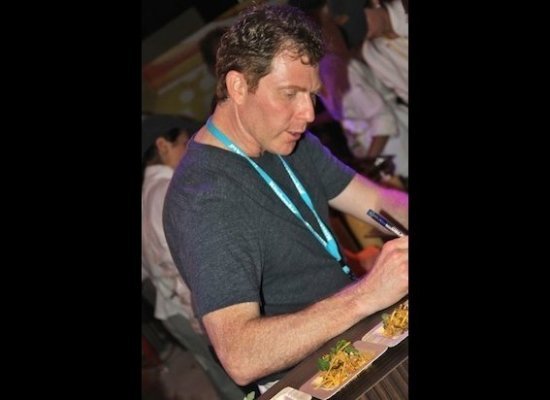 "Are you ready for a throwdown?" You'd better be if you're going to mess with the finances of this Iron Chef. He has six TV shows (at last count), five sit-down restaurants across the U.S. and one in the Bahamas, five burger joints, and nine cookbooks. With all the TV appearances, it's sometimes easy to forget that Flay built everything on his reputation for good cooking. The king of the Food Network was the James Beard Foundation's Rising Star Chef of the Year in 1993, just two years after opening his first restaurant, Mesa Grill on New York City's Fifth Avenue.